Kasten Tibetans

When Sam Kasten made a trip to Nepal in 2002 he was swept up by the beauty of the country. There he had the good fortune to meet a man whose family had been hand knotting Tibetan rugs for a century. Sam was immediately captivated by the idea of working with this family business to produce bespoke carpets of exceptional quality. The partnership was established and Sam Kasten Handweaver began offering a line of exquisite carpets to the trade. Not only are the prices we offer extraordinarily low, but the custom design possibilities are infinite. The quality, consistency and reliability of the manufacturer is truly outstanding in the marketplace. Our Tibetan carpets are GoodWeave (formerly known as Rugmark) certified.
One of the qualities that makes Kasten Tibetans unique in the marketplace is our outstanding service. Historically, the industry has been fraught with problems including color inaccuracy, size discrepancy or unreliable lead times. Our supplier has a proven track record of on-time delivery, impeccable color matching and accurate sizing. We can wholeheartedly assure our clients that they will receive their carpet on time and precisely as ordered.
Quality:  Our rugs are produced from dyed or undyed Tibetan wool, Indian or Chinese silk, mohair, or a blend. We also offer a line of cactus, hemp, nettle, bamboo or banana fibers. Any color is possible, including a beautiful range from pearl to chocolate in undyed, natural wool. Custom color samples (6″ x 9″) are available in approximately 3 weeks for $150 (€180). The dyes used are AZO-free Clariant dyes from Switzerland. Vegetable dyes are also available, where a more organic look is desired. 
Size:  Maximum size is 29'9″ x 60′ (9.07m wide x 18.3m long).
Shape:  Rugs can be woven square, rectangular, round or adapted to a specific floor plan.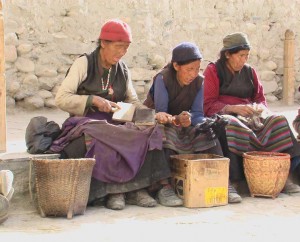 Design:  We can provide design assistance if needed, and can work with your scale drawing for complex patterns or shapes.
Technique:  Rugs can be cut pile, looped, or any combination of the two. 60, 80, 100, 120 or 150 knots per inch.  Soumak and Dari weaves are also available.
Lead times:  Allow approximately 16 weeks for rugs less than 15′ wide or 16′ long; timing for larger sizes will be quoted as requested.
Samples: are available at 6″ x 9″ for $150 (€180) and 12″ x 12″ for $350 (€350), and take about 3 weeks.